Romsey Beggars Fair takeover of Outreach Radio & Outreach Dance
On Saturday the 8th of July, from 11am to 6pm, the Outreach Radio team were broadcasting live once again from Romsey on Outreach Radio and Outreach Dance, from the 29th Romsey Beggar's Fair!
The Romsey Beggar's Fair is a free annual summer music festival held in the town of Romsey, where independent pubs and venues host a selection of local bands. For this year's Beggar's Fair, Outreach Radio took things to another level by setting up two live outside broadcast units in two different locations in the town to cover a wide and varied selection of artists and musicians performing live.
The first unit was set up in front of the old Barclay's Bank building on the Cornmarket for live broadcast on Outreach Radio, and the second unit was set up on the Bandstand in the Memorial Park for broadcast on Outreach Dance. This dual-radio station "takeover" is an unprecedented move in local radio, and was made possible by the hard work and outstanding efforts of the Outreach Radio team of volunteers.
Located at the Cornmarket were Outreach Radio presenters Shaun O'Brien, Onur "The Groovy Pelican", Rich Lawrence, Bob Heather and Carrie Knights with additional support from Winchester's Peter Symonds College A-Level student Ollie, from the Symonds Radio enrichment group supported by Outreach Radio Managing Director, Osman Sen-Chadun (DJ Oz) was responsible for the technical setup and coordinating the live broadcasts between locations.
With Outreach Radio primarily served by audio from the Main Stage at the Cornmarket, additional feeds from Bradbeer's Courtyard were also hooked up allowing the live broadcast of bands from this venue too.  With presenters roaming around Romsey town centre, interviews were conducted with local musicians including Soulcatchers, Jacamanda, Auden, Mary Jane, River Knight, Second Time Around, Vexmantra, Colin MacPhail and many more, plus interviews and chats with members of the public who were enjoying performances throughout the day.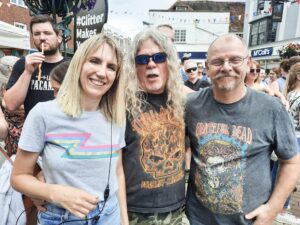 At the same time, in Memorial Park, Outreach Radio presenters Georgina, (Deejay GG), Ian Fisher and Mike Joyce were broadcasting live events from the Memorial Park Stage, as well as playing fantastic music from across the decades.  Interviews included Emilie Lierre, Bat 2K, Romsey School Band and the Newport Session Band.
Despite the rain earlier in the morning, and also right at the end when it was time to pack up, the sun stayed out for us throughout the day, and the Outreach Radio team plus everyone we encountered throughout the day had a wonderful time. 
Our massive thanks goes out to the Beggars Fair organisers for having us there, to Romsey Town Council,  the local artists and bands whom it is our pleasure and privilege to support and promote, and the visitors and listeners for their support too. We hope to see you there next year!
Please click below to listen to the catch-up recordings of the Outreach Radio and Outreach Dance Beggar's Fair 2023 takeover:
TIME
FEATURING
CATCH-UP
Outreach Radio Ad
Outreach Dance Ad
OUTREACH RADIO - CORNMARKET
11am
Fleetwood Unchained
12pm
Soulcatchers
1pm
Soulcatchers continued, interview with Vexmantra & En Masse Choir
2pm
Jacamanda & Zdravets
3pm
Interview with Recluse & music from Auden
4pm
Auden continued & Mary Jane
5pm
Mary Jane continued, interview with Colin McPhail
OUTREACH DANCE - MEMORIAL PARK
11am
Lucy Drake
12pm
Lucy Drake continued & River Knight
1pm
River Knight continued & Second Time Around
2pm
Emilie Lierre
3pm
interview with Bat 2K
4pm
Interview with Romsey School Band & Newport Session Band
5pm
Interview with Newport Session Band