Outreach Radio transitions to DAB+ from 20th March
On 20th March, Outreach Radio will be leaving the South Hampshire DAB network to transition to DAB+.
DAB+ is an upgraded version of DAB digital radio that will give you access to Outreach Radio in higher quality stereo, so we will sound even better.
The transition to DAB+ will take some months to complete, and will unfortunately result in some temporary gaps in our core coverage area whilst this migration work is undertaken, as the new DAB+ radio transmitters for our area in Hampshire are still in the process of being deployed.
As many listeners will be aware, we launched our second service, Outreach Dance, in September 2022. Outreach Dance was launched on the first permanent DAB+ transmitter for our area, which was in Winchester. The following month, Outreach Radio & Outreach Dance both launched onto the new DAB+ network in the extended area of Basingstoke, allowing us to not only increase the reach of our services, but also really put DAB+ to the test!
Further to the success of these tests, Outreach Dance was also extended to the Portsmouth Trial DAB+ network in January 2023, followed by Outreach Radio in March 2023. Some of the new features we've tested and now implemented are:
DAB+ Service Linking – The ability for car radios to automatically and seamlessly switch between different transmitters when moving from area to area
DLS (Dynamic Label Segment) – Allows Outreach Radio & Outreach Dance to display dynamic programme-related information on your DAB+ digital radio display
Station/Service Logos: Allowing Outreach Radio & Outreach Dance to display on-screen channel logos on supported radios
With Outreach Radio & Outreach Dance now broadcasting on DAB+ to the majority of our core coverage area, with the exception of Southampton which is due to be deployed in the coming months, it was financially prudent as a small business to leave the original DAB network in order to significantly reduce duplicate operating costs.
We apologise to listeners affected by these changes, but please rest assured that the new DAB+ network for Southampton and surrounding areas is of utmost priority to us and is being worked on by our transmission partners.  We will announce the go-live date on-air and on this website as soon as it is confirmed.
The map below shows the planned coverage for Outreach Radio & Outreach Dance: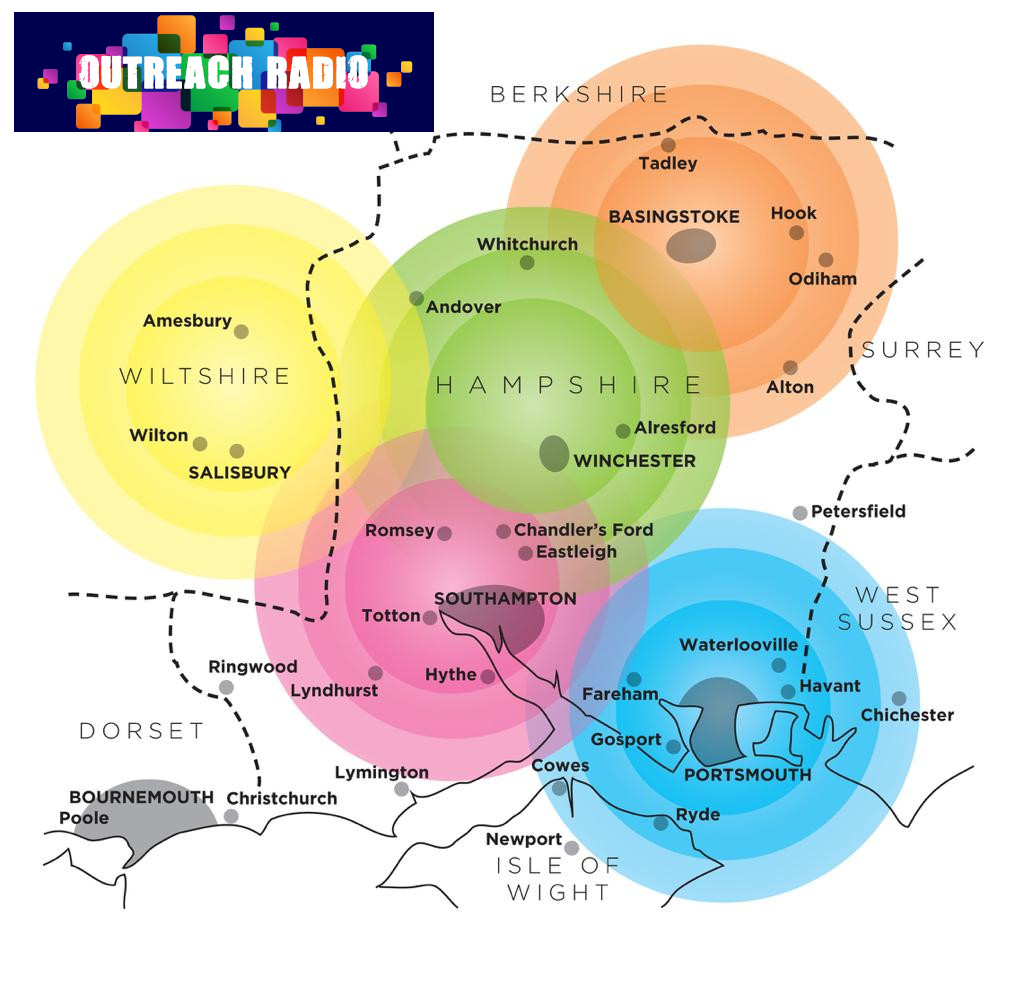 The current network status for our DAB+ services is show below:
LOCATION
SERVICE
Outreach Radio
Outreach Dance
Winchester
Active
Active
Basingstoke
Active
Active
Portsmouth
Active
Active
Salisbury
Live from 28th March 2023
Southampton
Coming soon...
If you have bought a DAB radio with the DAB+ feature, this should not affect your ability to hear Outreach Radio if you are located in one of the new DAB+ coverage areas.  If your DAB radio is an older version that does not have DAB+, you may have to replace it.
Your radio should generally be able to receive the DAB+ service if it was purchased within the last 5 years. However, there are a few quick ways to check. The simplest way is to look for the Digital Radio Tick Mark on the radio or its packaging. All radios that bear that Tick Mark can receive FM, DAB and DAB+ stations. If the product does not have the Tick Mark, then please check the product description carefully to see whether it specifies DAB+, or check with the manufacturer.
If your radio doesn't have DAB+, or you are without DAB+ coverage for now, then you can continue to listen to Outreach Radio via our website popup player, smart speakers, Freeview channel 277 and through apps like Radioplayer, Online Radio Box or myTuner,
DAB+ is not entirely new to Hampshire, as a large number of national commercial radio stations and over a hundred local and small-scale DAB stations across the UK are already broadcasting in DAB+. The national radio stations include:
BFBS UK, Capital Dance, Capital Chill, Capital UK, Capital Xtra, Capital Xtra Reloaded, Gold UK, Heart Dance, Heat 70s, Heart 80s, Heart 90s, Heart 00s, Jazz FM, Radio X, Smooth Chill, Smooth UK, Talk Radio, TalkSport 2, Virgin Anthems and Virgin Chilled – so we're not alone!
If you'd have any further questions about receiving Outreach Radio, or about our transition to DAB+, please email: info@outreachradio.co.uk.