Southampton's ice rink at Westquay Shopping Centre opened with the ribbon cut by the city's Lord Mayor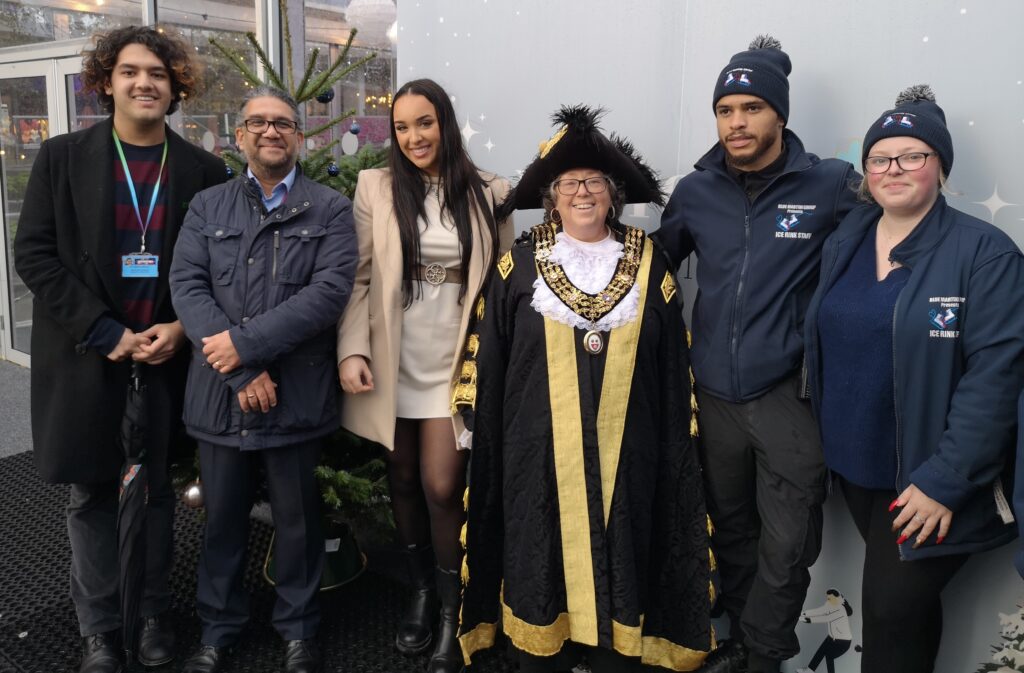 Southampton's ice rink at Westquay Shopping Centre opened yesterday, with the ribbon cut by the city's Lord Mayor, Cllr Jacqui Rayment.
Outreach Radio is the Official Media Sponsor for Westquay On Ice, will be providing the music, and broadcasting live from the ice rink from this weekend with entertainment, fun and games and ticket giveaways for lucky listeners.
The Lord Mayor of Southampton met with the press, and teams from Blue Martini, the operators of Westquay On Ice, the team from Outreach Radio and members of the general public.
Onur, The Groovy Pelican, took the opportunity to interview the Lord Mayor and find out about her role and appointment by HM Queen Elizabeth II, and about other things happening in Southampton during this festive season. You can here his interview on Outreach Radio this week.
Presenters Mike Joyce and Bob Heather, both former Southampton Ice Rink DJ's, were back in their comfort zone in an ice rink, and chatting to the Lord Mayor, learned how she used to be a steward in the old Southampton Ice Rink. Mike already has his song requests lined up and will be featuring these in his Sunday evening show, Southampton Ice ink Memories, including a special dedication to the Lord Mayor.
Matt Belsey from Outreach Radio's sister station Outreach Dance was also there, checking out the ice rink, and the sound system in readiness for DJ's to "take to the decks" during the evening dance music sessions.
As the perfect atmospheric experience for both beginners & skating aficionado's. with a 600 sq m ice rink that will be open every day throughout the festive period (except Christmas Day), come along and join Outreach Radio & Westquay On Ice for a special seasonal skate against the stunning backdrop of Southampton's historic city walls.
To join in the fun and book your Westquay On Ice tickets, please visit: https://www.westquayonice.co.uk/
Outreach Radio would like to express thanks to the Lord Mayor of Southampton, the staff from Blue Martini, and the helpers and volunteers who made the Westquay On Ice opening ceremony such a warm and fun experience.